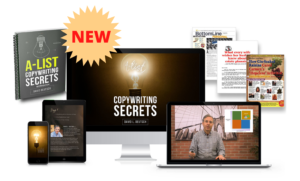 A-List Copywriting Secrets, my brand-new copywriting course, reveals how to write better copy that gets response and sales – or get better copy from staff or freelancers. Click here to watch a free excerpt.
Copy Quickstart is a once-in-a-lifetime series of interviews with 18 of the world's top copywriters and marketers, which may be just what you need to propel you to the next level of success. Click here to find out more.
The Million-Dollar Ideas System reveals how to come up with great ideas — quickly and easily — so you can write super-effective sales copy. Click here to find out how to turn your brain into an idea-generating machine.